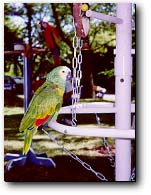 In Memory of Nancy Weaver, Awesome Lady Extraordinare.
Welcome!
It is with great sadness that I report that in December of 2001, Nancy Weaver lost her battle with cancer and passed away.
Nancy was the parrot champion's champion. A tireless, fearless warrior, Nancy dedicated her entire life towards rescueing abused and unwanted parrots, and rehabilitating them into happy birdies that knew no hardships.
Quite simply, Nancy was and still is an inspiration to any and all parrot-lovers. She touched the lives of countless people and birdies, and will be missed by all who were privileged to know her.
Please enjoy your visit to her memorial site. Angus, the founding birdie of rec.pets.birds who used to live there, now resides at Foster Parrots - definitely visit that site for a superb parrot rescue that carries on parrot rescue legacies.